DD Octopus NET V2 S2/2 - SAT>IP Networktuner - SAT>IP Networktuner-The High-End Networktuner - Octopus Net
The Octopus Net is streaming LiveTV to IPTV-Ready devices in the local network. It makes so many devices to a FullHD (*1) receiver for satellite television and cable television. Thereby will send the FTA Channels (*2) in FullHD in the LAN or WLAN Network. Up to 4 streams - depending on model - may be used simultaneously on stationary and mobile devices. The to-use client software (*3) is for the operating systems iOS (iPhone, iPad), Android, Mac OS and Windows already from various manufacturers available on the market (Smart TVs, Windows Phone, Windows RT and Kindle Fire HD in preparation).

All models in the Octopus Net series contains a 5 port gigabit managed switch and the possibility to be equipped with two DuoFlex modules (* 4). The Octopus Net can be any number of times cascaded (controlled by IP address). Power is supplied by an external power supply (rack version also possible internally). The use of wireless clients requires an additional wireless access point.

*1 Full HD ready, depending on the client
*2 CI support
*3 possibly charged (the current list below: www.satip.info)
*4 Depending on the model are 1 or 2 twin tuner included
Due technical reasons, the MTD function is not available for this device.
.
The model Octopus NET S2 / 2 includes one DVB-S / S2 tuner. The configuration is made via web interface, a firmware update is performed via LAN / Internet when needed. You will also receive the free software Digital Devices TV for Windows XP / 7 / 8th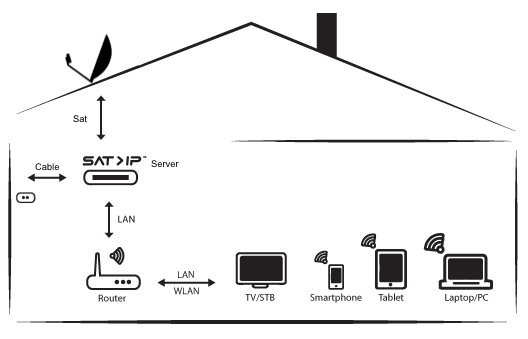 SAT> IP standard: do V. 1.2
HDTV (H.264 / H.265 / MPEG4): Ano
Připojení přes: Network
Tuner: 2
Režim příjmu (s): DVB-S2
Jednokabelový systém: Hlavní vstup
Síť: 5Port GigaBit manaž. přepínač
Číslo CI slot (y): 2
Kaskádovatelný: Ano
Napájení: přes externí zdroj
Spotřeba energie: cca 12W
To use the network tuner you need a client software or a hardware client for your system environment. The IPTV client software for the protocol SAT> IP can be paid for, a list of usable products, see http://www.satip.info.

(we reserve the right to change the description and specifications without prior notice)